A horrid wart, an unsightly mole or the appearance of thread veins may not be conditions you want to bother your local doctor about but nevertheless, they can be bothersome to you.
Advanced Cosmetic Procedures, otherwise known as Advanced Electrolysis is now a recognised standard treatment for these and a host of other cosmetic blemishes, skin conditions and benign growths.
It's a quick, safe and effective treatment, diminishing the appearance of your skin imperfection and bringing back your skin confidence.
I specialise in these procedures and am fully qualified to undertake the various types of skin imperfections and as the treatment doesn't involve injections or incisions, there is no down time so that treatment can easily and conveniently fit around your busy life.
Apilus®
For this treatment I use the new and advanced Apilus® machine to treat unwanted hair and facial thread veins! Thread vein treatment is designed to reduce the networks of visible purple or red veins commonly found on the cheeks, nose, forehead and chest. Owing to its powerful circuits and stable currents, Apilus® offers professional electrologists pinpoint precision capabilities and optimal settings that deliver the results you seek by using thermocoagulation.
Thermocoagulation uses ultrarapid radio frequency to coagulate blood in the tiny vessels on the skin. When the blood is coagulated the tiny vessels minimise or disappear and blood simply takes another course around the area.
Red veins are common especially on sensitive skin, but easily improved with this method with no downtime.
The area heals over a few weeks and is back to normal in 3/4 weeks.
1 sessions is often all it takes to treat this condition, however some may need second session with 1 month interval.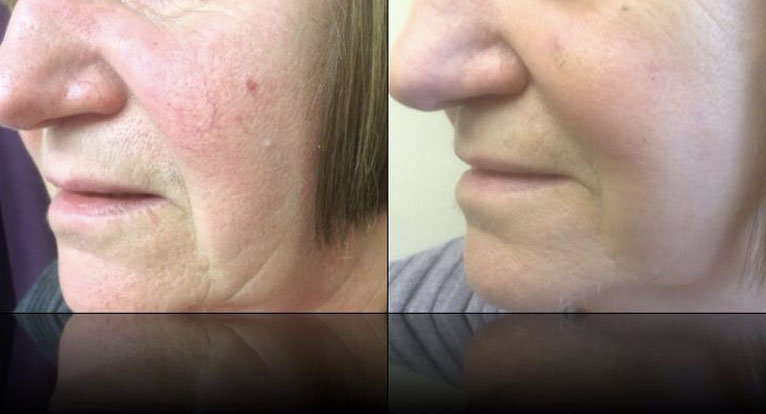 Skin tags/ Red spots
These are treated in a similar way to red veins using thermocoagulation and the session is 30 minutes where everything that can be treated is done in that time.
Very rare a second session is needed. The skin tags are usually gone during the session so no need for them to fall off.
The skin however does need to heal and it is advised to avoid clothes from rubbing.
Aftercare is minimal. Immediate results, safe, simple, cost effective and convenient.
Removal of red veins from the legs
This procedure is carried out by injecting a small amount of special solution into the affected area. The thread veins will gradually fade over a period of between two and eight weeks following treatment. In many cases the veins often completely disappear.
Removal of red veins from the legs is arranged and carried out by a qualified nurse.